Whybe a Traveler - Do the Thing (Dubai Days 1-2)
It's funny - I spent the past 6 months thinking excessively about this trip to Dubai and stressing over every little detail. I experienced every possible emotion from fear, nerves, excitement, anxiety, stress, and mainly just resistance to going into a trip with so many unknowns.
To combat/minimize these emotions, I tried to plan out every last detail -- from the 5 books I planned to read on the plane to the exact times I was going to sleep to avoid jet lag to the times I was going to eat and what.
In the past, I've tried to control all of the little details of my life, and this trip was no different. It's as if somehow I can make my fears and resistances disappear simply by controlling and orchestrating everything in my life. Of course, this only creates even more fears and resistances. But as soon as the plane wheels lifted up Houston, I felt a sense of ease and acceptance.
I let go of my attachment to how this trip should go.
I am slowly learning that anything worth having in life -- whether it be a physical object or an experience, comes with at least a little bit of friction, some sort of resistance.
It's my job not to make that resistance go away, but instead to accept it and DO THE THING ANYWAY. Yes, I still feel that slight resistance, but with a ton of more ease mixed in, too. How can I not have the best time when the first 2 days of my trip with my family included everything from a laser show in a bomb ass futuristic city, to the tallest building in the world, to Lebanese food + pizza + sushi, to the biggest mall in the world, to a rocky and gorgeous mountain range.
Dubai, to Fujairah, to back to Dubai
We landed in Dubai on New Years Eve at around 1:30 a.m. Dubai time (aka 3:30 p.m. Houston time on the 30th). We were wide awake; my mom, brother and dad (who got there a few days before us) were exhausted, as it was the middle of the night for them. We drove the 90 minutes back to Fujairah, where my mom's apartment was, and tried to fall asleep as fast as we could - which was around 5 a.m.
Breakfast was pita and falafel at a local street food vendor. The sun was beating hot, the sand was dry and tan (as was everything around us pretty much), and we were trying to force ourselves to wake up. The place we got our breakfast from was a little bit of a culture shock - especially after landing in Dubai where all buildings seem to come from the year 2318. All the buildings in the line of vendors were run down - barely looking like they were even open. The inside was dusty from the sand, with barely enough room for anyone to move around. Almost everyone around us was dressed in traditional Emirati attire - men white robes covering the entirety of the body, with a white headscarf and a black agal (looks like a thick black rope) to hold it in place, and women (those we did see) wearing all black abayas covering their whole bodies. We definitely stuck out in our American clothing.
Lebanse dinner, NYE out in the Souk at the Dubai mall.
We went to the pool briefly before heading back to Dubai, running on 4 hours of sleep. The drive between Dubai and Fujairah isn't very interesting - first it's a lot of mountains, then a lot of sand - all of which are the same palette of beige. I was just happy to be back with my family, all in the same place.
After checking into the Grand Emirates Hotel, we got ready, and set out for dinner. My mom had told us that the nights don't really start in Dubai until 9 p.m., and we quickly saw that as we tried to find somewhere to eat at 6 p.m. We settled on an empty Lebanese restaurant, and it was absolutely amazing.
hummus, usmaleih, halloumi, garlic bread, grilled veggies and chicken
Dinner menu
Hummus sampler - smoked pepper, basil, and pesto
Beef Usmalieh - Toasted usmalieh stuffed with minced beef, onion, pine nuts and bechamel sauce topped with pomegranate seeds and sauce
Ratatouille Grilled Halloumi - Sauteed vegetables topped with grilled halloumi cheese and pesto sauce
Bread with Garlic dip on the house
Half Boneless Grilled Chicken - Grilled chicken served with french fries, cucumber pickles and garlic paste
a TON of walking to Karma Kafe, Dubai Mall, for unlimited drinks and ringing in the new year.
After dinner, my mom and dad went back to the hotel, while my brother and Peter and I headed out to the event we had bought tickets for. Yes, Dubai has Uber and taxis. However, all roads by our event were closed because it was right by the Dubai mall, fountains, and Burj Khalifa. We ended up walking from the hotel, which took about an hour total because I was wearing 3-inch heels and there were SO many people walking on the road. The walk included crossing a major highway, climbing over highway railings, and walking through the entirety of the Dubai mall to get to the other side. I had a giant blister by the time we got to Karma Kafe, our final destination.
DJs, Vicente Allende, unlimited drinks, and a laser light show to kick off 2018
We had bought an unlimited drink package for the evening, so we set up camp at the bar with a bartender just for us. The place was an Asian-inspired tapas bar, with bird cages all around as decor. The night started out with a DJ playing popular music, and continued with live music by Vicente Allende, who we had never heard of, but was apparently a crowd favorite because everyone was up and dancing.
At midnight we stepped right outside to watch a laser show projected from the Burj Khalifa. It was incredible. Everyone, including myself, was mesmerized by the light show, complete with a video being projected onto the building. The fountains at the Dubai mall were also dancing as we counted down to 2018. I'm not even going to try to hide the fact that I cried. It was overwhelming in the best way possible, and I wouldn't have chosen to be anywhere else with anyone else to start 2018.
We concluded the night by walking back to the hotel, and eating pizza at the place next door. The city was well awake until about 6 a.m. and it was an incredible experience to be right in the middle of all the buzz.
.......and that was just Day 1.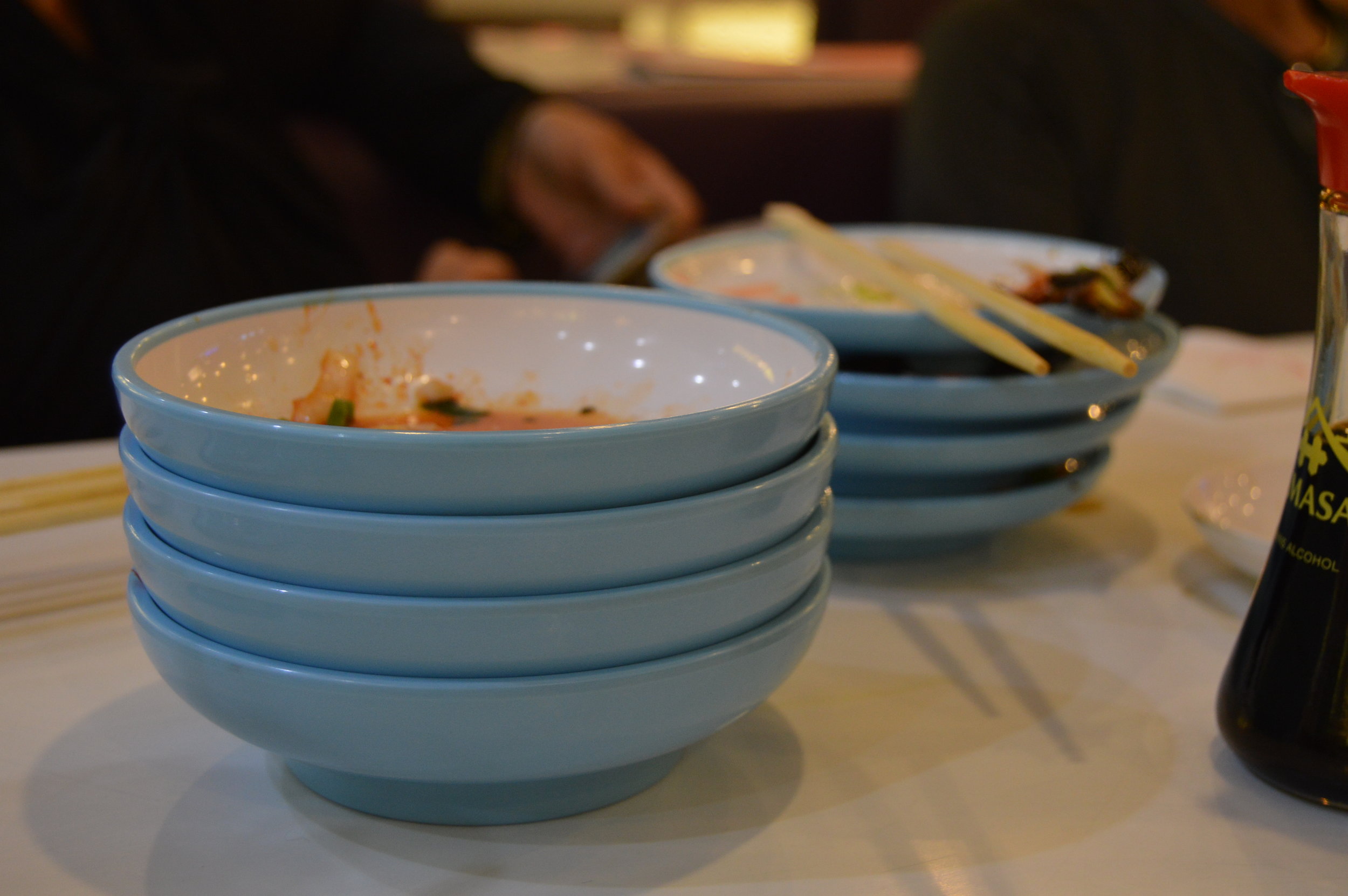 Dubai Mall, Jumeirah Beach, the Palms, all the souks
The Dubai mall, the biggest in the world, is pretty what you'd expect if you've ever been in a big mall (i.e. Mall of America, Houston's Galleria, etc.). It's a lot of expensive and nice stores, and you have to walk a lot to see it all. We started our morning by eating guru-guru sushi (sushi that goes around on a conveyor belt around tables) and walking a little bit around.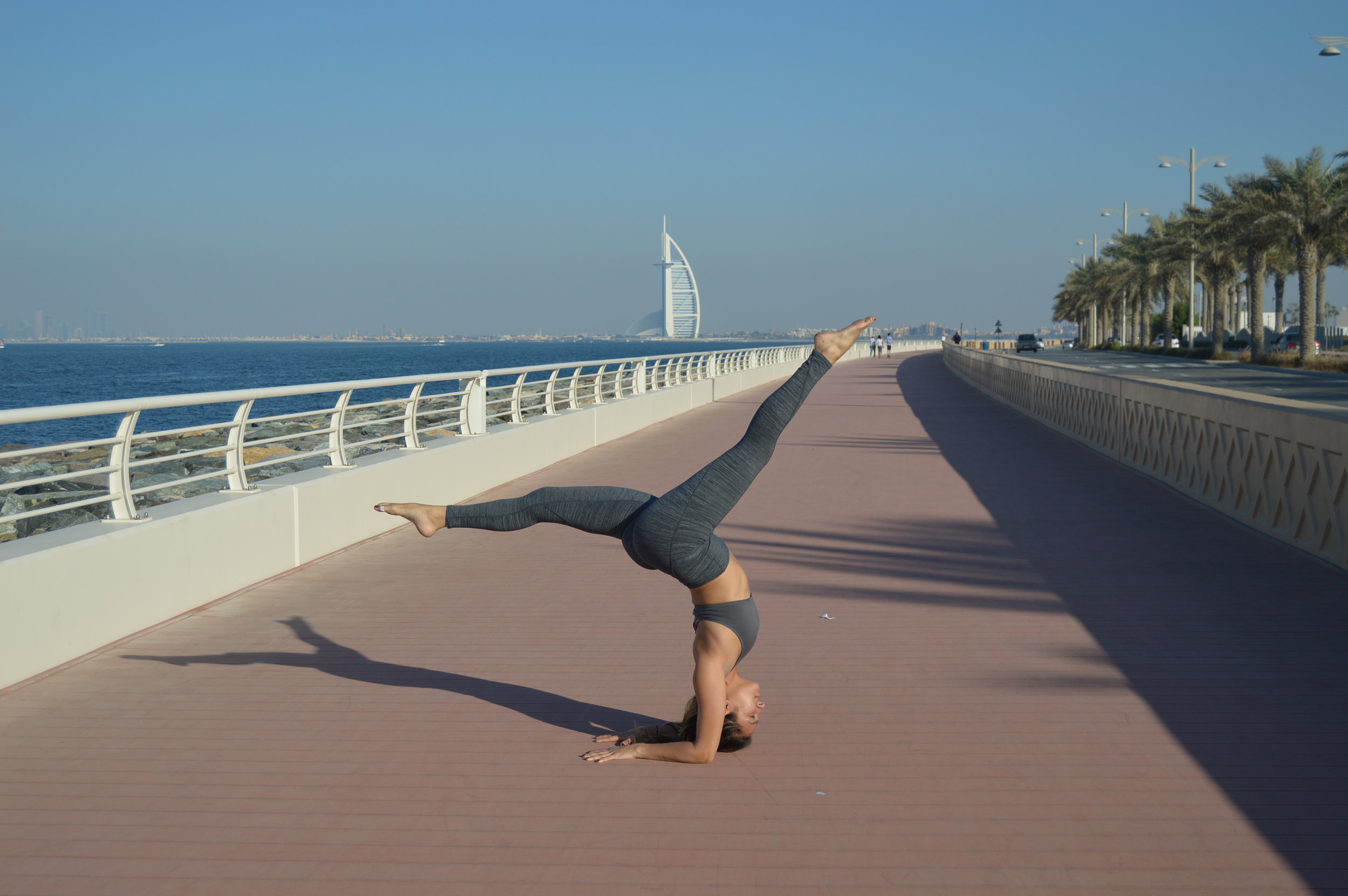 Driving, & walking everywhere... with a little bit of yoga
Since we had just walked around the mall the night before, we were eager to see what else was in the city.
The rest of the afternoon was spent driving and walking a lot. If you've ever looked at a map of Dubai, you've seen what looks like a fan, or a palm tree extending off the mainland. This is Palm Jumeirah, a man-made island off the coast of Dubai. On a map, this looks very small.... in reality, it's a series of roads and boardwalks that that extend quite a ways.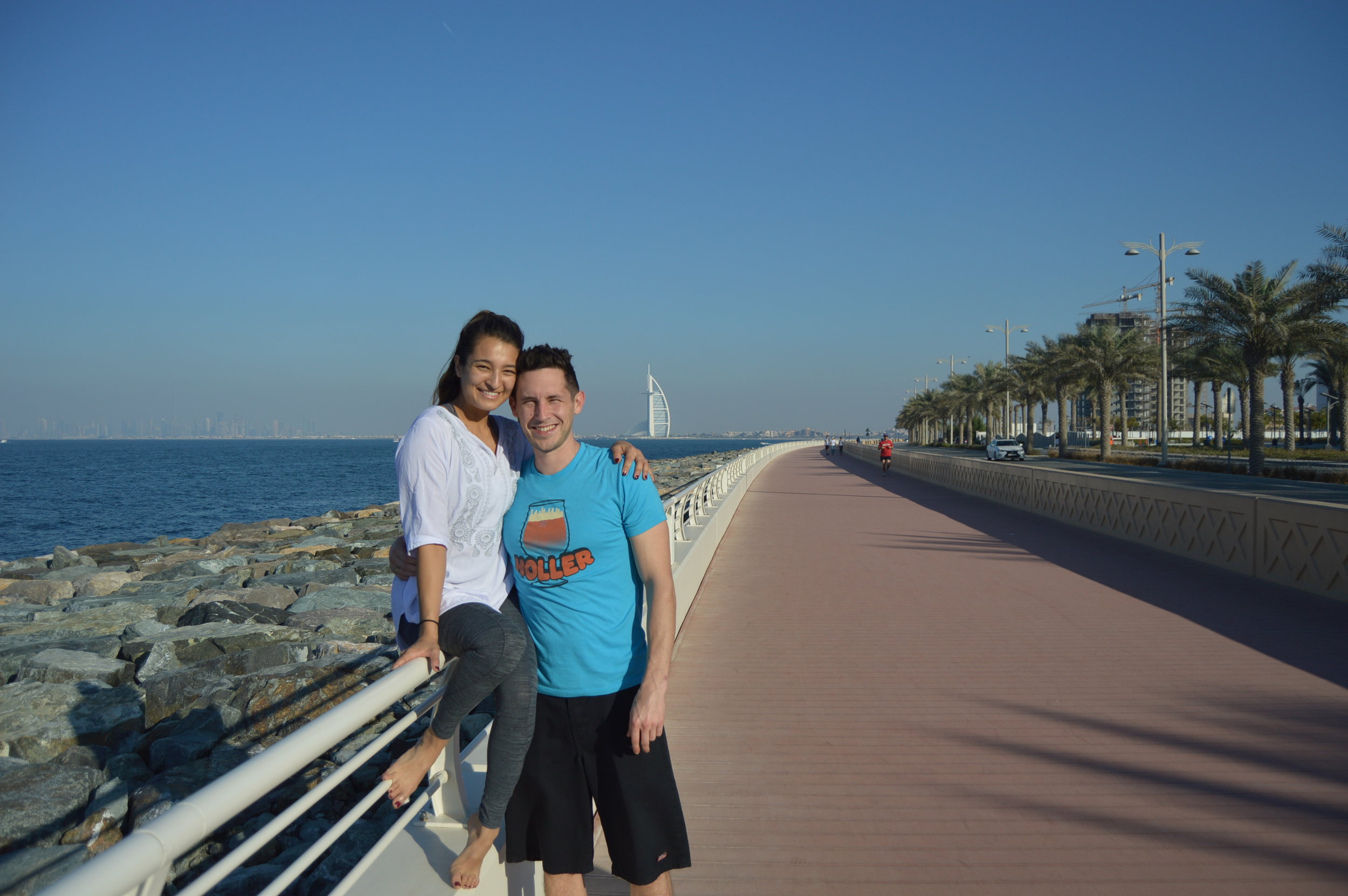 A souk is a market, and there are many different souks all over Dubai. They sell everything from gold jewelrly, to traditional Arabic clothing, to cheap knock-off brand watches, to little trinkets. Throughout Day 2, we went to Souk Al Bahar, the Souk in the Dubai Mall, and the Gold Souk. Although I didn't buy anything, it was cool to be in the mix of the fast-paced culture and see many different things.
With as many things as we did during the first two days, I felt like I barely had time to even think about any of the resistances that came up for me before the trip. Being in a brand new country threw me for a loop, and actually allowed me to be fully myself. Without expectations (society's or my own), I was able to be fully present, flowing from one thing to the next smoothly. By choosing to move forward through our days, despite feeling tired from the jet lag or sore from traveling, we were able to fully experience everything the country had to offer.
Be on the look out for a recap of my Days 3 - 8 in upcoming posts!