Whybe a Traveler - Stay in Wonder (Dubai Days 5 - 7)
In the past, I have often times allowed fear to win. When something scares me, I have fallen back, and passively played small, rather than confront my fears head on. In other words, I am used to choosing the easy, safe and, most often, boring way over taking chances on the riskier choices because I let fear hold me back. The fear, in these cases, has been stronger than my curiosity and passion for learning.
was a freeing experience of allowing that curiosity and passion for learning to power over my fear and resistances.
I was especially proud of myself for waking up every morning with a brand new set of eyes, heart open and ready for whatever we were going to do.
The BBQ on the beach the night before lasted past my bed time (aka, it was over at 10 p.m.) so we took our time waking up on Day 5. This morning, like a few other mornings, started out with breakfast from the pita and falafel stand down the road from my mom's place. They sold pita pockets with various fixings stuffed inside: my mom and I mixed it up between the falafel, potato, and cheese pita and the egg and falafel pita, while Peter, my brother, and my dad stuck with the meat and falafel pita.
Part of that freeing experience of allowing my curiosity and passion to thrive was trusting and tapping into all of my senses -- tasting and savoring everything I wanted to eat (I love hummus and falafel and did not restrict myself), seeing the culture (simply observing and processing it all around me), touching the camels (sticking my hand out and letting them lick me), hearing the commotion and sounds everywhere in the city that seemed to never sleep (the call to prayer five times a day through the loud speakers wherever we were), and smelling perfumes almost every day (we stepped into a perfume shop almost every day that we were there).
After breakfast, we headed to, what felt like, the tenth perfume shop we had been into since we landed in the UAE. I've never been an avid perfume-user, but my mom got us all perfume oils as gifts for Christmas last year, and all of us developed a strong liking to them. Both Peter and Isaiah wanted to get another one while we were there, so trying out different shops became a kind of hobby.
We continued on to adventure through the Fujairah Fort, full of hidden staircases.
After a brief amount of time feeling like a kid again climbing through the maze that is the Fujairah Fort, we gathered our things and headed out to the Desert Safari. Anticipation was built up at the point, as it was cancelled the day prior when we were already on our way. We drove to Mleiha, where we were picked up in a Toyota Land Cruiser and headed out to the middle of the Dubai Desert.
that voice of fear, but this time there was a louder voice: one that said "let's embrace the adventure."
As soon as we started driving on the sand, I felt a brief moment of panic and I wanted to turn around. Too bad I was stuck in the middle seat of the middle row of the SUV and we were already going full speed through the sand. I have this amazing ability to see clearly everything that could potentially go wrong in any given situation, and this was no different. However, after the first couple of times we went nearly completely sideways on the side of a sand dune and didn't topple over, I began to trust the driver, and trust that I was going to physically be OK. As soon as I made the choice to trust, my experience shifted from one controlled by fear, to an adventure. I was in awe at how the desert seemed to go on forever in the distance, like the ocean. I was mesmerized by the sun setting. It was exhilarating to be driving recklessly (or it occurred to me as that way) and yet so safe because I was simply experiencing life in true wonder.
Heart still pumping, we were dropped off at our final location where we enjoyed the sun setting over the desert while riding camels (although I still think my favorite was hanging out with camels the day before in their natural habitat). The night was spent eating Middle Eastern cuisine (hummus and rice again, I wasn't mad) and entertained by a belly dancer and fire breather.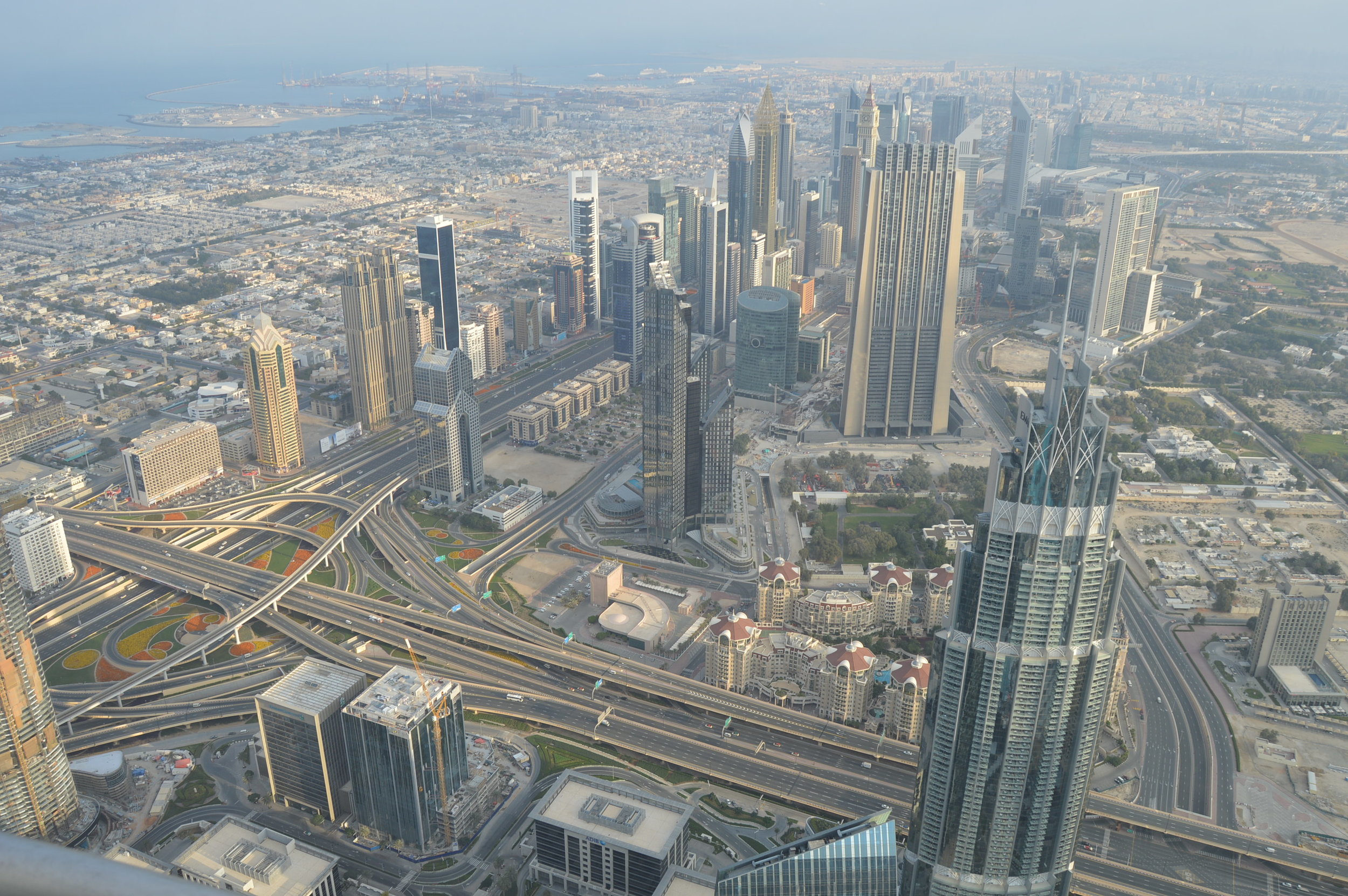 When I'm with family, no amount of time seems like enough - especially when we all live so far away from one another. This was the day when my brother and dad were to fly back home to the United States. Before, though, we had bought tickets to ascend 456 meters up into the air to the 125th floor of the Burj Khalifa, aka the tallest structure in the world. I could literally see myself falling off the top to my death, and my palms began to sweat as we stepped onto a super fast elevator (60 seconds to our destination).
When we stepped out onto the open observation deck, I expected it to be loud and windy. Fun fact: the Burj Khalifa was built to "confuse the wind," which to me, translated into it being eerily quiet, and I was confused as to whether we were actually out in the open or not. Looking down, the buildings looked like miniature LEGOs, like we were looking down from an airplane, except that we weren't moving. It was cool to go up on one of our last days there because we got to see everything below us that we had visited earlier in the week: our hotel from New Years, where we watched the laser show on New Years Eve, the Dubai Mall, Jumeirah Beach.
After a brunch buffet at Na3Na3, it was time to send off Isaiah and my dad.
Whether it's saying good bye in New York, Indiana, Texas, or the UAE, it's no different.
Goodbyes are the never easy,
especially when you don't have a concrete day you'll get to see them again.
After that, we back to Fujairah with sad hearts, knowing we would have to make the drive the very next day and say goodbyes all over again with my mom.
Searching for camels, and our 36 hour travel back to the states.
Day 7 was for relaxing by the pool, shopping for last minute souvenirs, and searching for another pack of camels like we saw on Day 4. We headed back around the Mleiha Archaeological Museum hoping we'd find another pack of camels to hang out with. Unfortunately, it was windy, and as soon as we found a few and parked, I slammed my finger in the car door (yes, like completely latched the door on my finger). I think my scream scared them all away, and we didn't see anymore after that. With an extremely bruised and swollen finger, we headed back to my mom's place and decided to relax until we headed back to the Dubai Airport for our flight that night.
From the time we left my mom's place to unlocking our apartment door in Houston, 36 hours passed. We had a 7 hour layover in Istanbul again, but had to go through a significant amount more of security heading back than on our way to Dubai. We didn't even leave the airport (we would've had to apply for a VISA before leaving for our trip), but we still had to go through four separate security checks - including removing all of my items in my checked baggage, being patted up and down, sent through a metal detector, and waiting in multiple lines.
Keeping my intention of 'staying in wonder,' we explored the Turkey airport, found fun drinks at different bars, bought fun trinkets at the souvenir shops, and slept in weird places.
This trip took me out of my comfort zone in so many ways. I never imagined I would be going to the Middle East, and it was even better that I got to do it with my best friend. Peter had never been out of the United States, and this was definitely the longest plane ride he's ever been on. I am honored he trusted me to travel with, and it warms my heart that he jumped full on into this adventure with my family and me.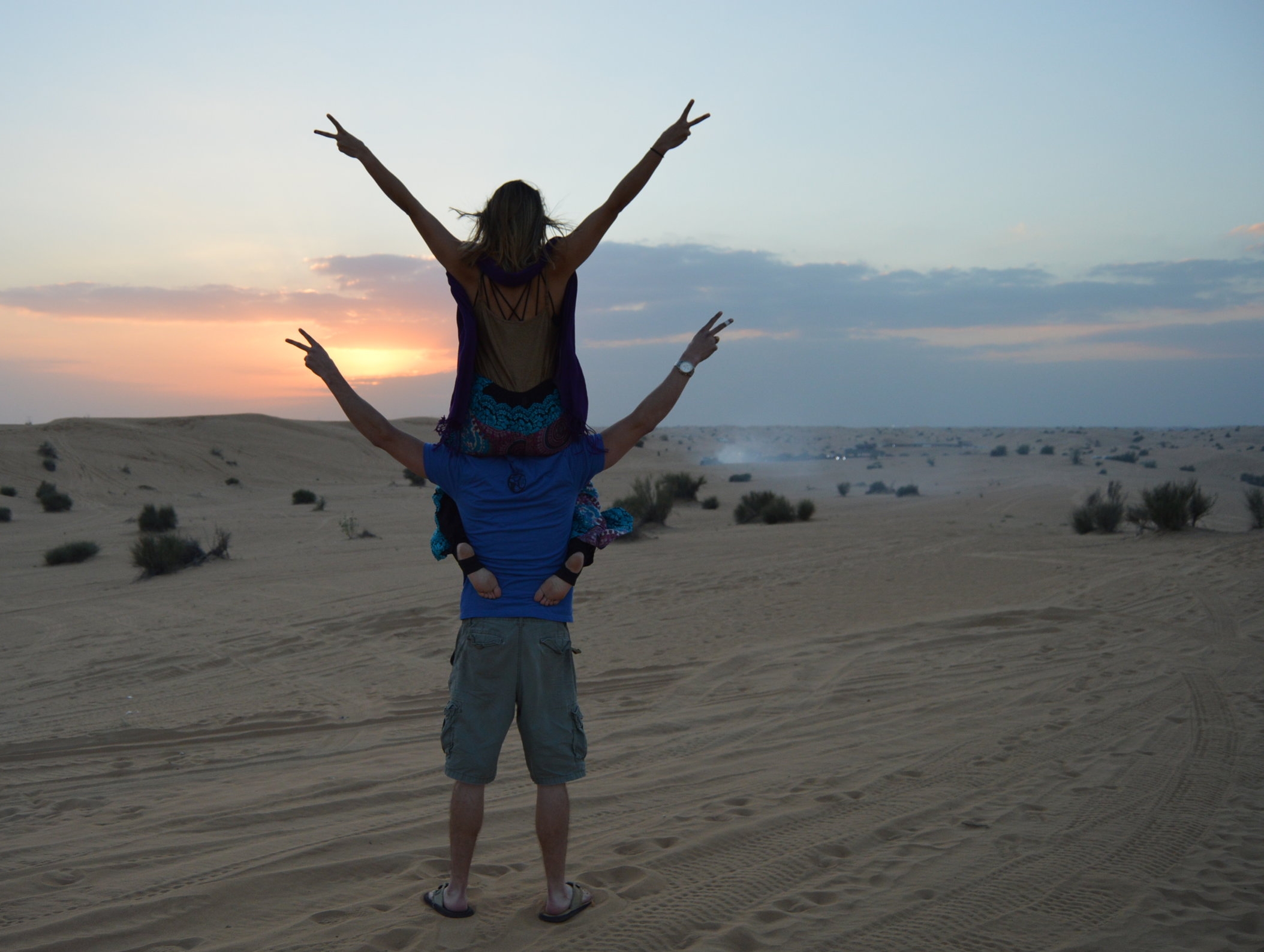 about each other on this trip: the number one thing being that I want to continue to stay in wonder with him, about us, and about life.
Fear and resistance will keep showing up in my life. But from here on out, I will remind myself of this trip and my experiences and tell myself that anything worth having in life -- whether it be a physical object or an experience, comes with at least a little bit of friction, some sort of resistance.