Whybe a Traveler - We Are All Connected (Dubai Day 4)
Our first few days in Dubai were jam packed with one activity planned right after the other (read about my Days 1-2 here and Day 3 here), and everything was pretty much going exactly as we had organized it to. Our bodies seemed to be adjusting to the time change smoothly (despite no more than 4 hours of sleep a night), and we even managed to get in a work out with stretches to balance out all of the walking we had done.
Of course, a plan in place is a good idea, but you gotta plan for that plan to not happen too!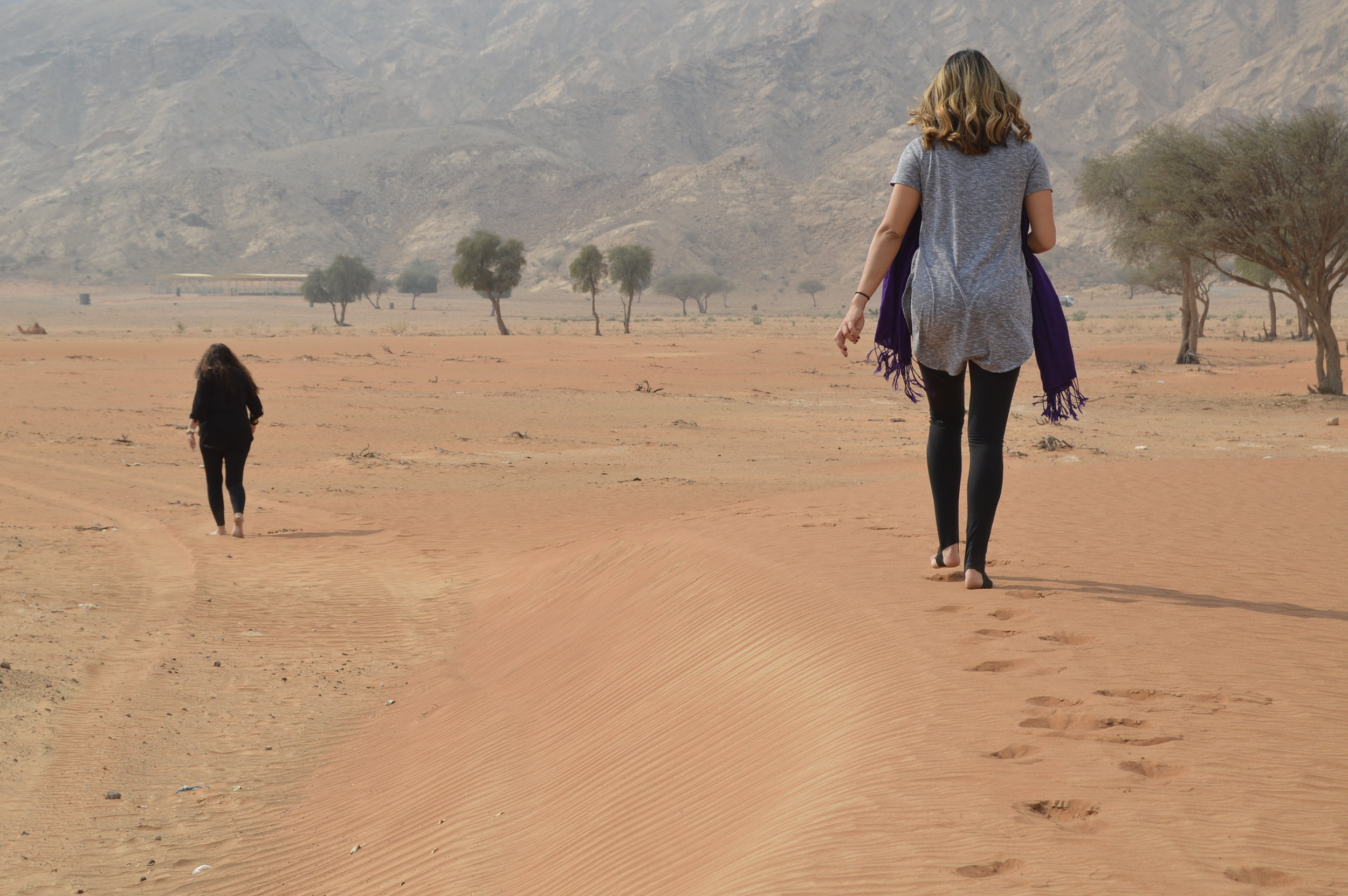 After taking our time waking up, we packed the car and headed to Dubai around noon for our planned Desert Safari Adventure. About half way there, we received a call that there was a desert sand storm brewing, and the tour was cancelled. Looking around where we were at the time, there was no sight of this sand storm, but there wasn't much we could do about the tour being postponed until the next day, so we turned around and headed back home to Fujairah.
With no other time constraints, and with slightly defeated hearts, we decided to stop at the Mleiha Archaeological Centre where my parents and brother explored a few days before Peter and I arrived. On our drive in, I immediately forgot about the archaeological museum when my eyes caught a huge pack of camels - about thirty grazing, sun bathing, and hanging out off to the side of the road. Now, I will be honest -- camels have never been my favorite animal at the zoo, and I've never had any particular liking to these mammals.
However, as I approached one of them, with a shy hesitance at first, I instantly felt a connection. The kind of connection where we both knew there was no harm or danger. The kind of connection where we simply were offering and receiving love.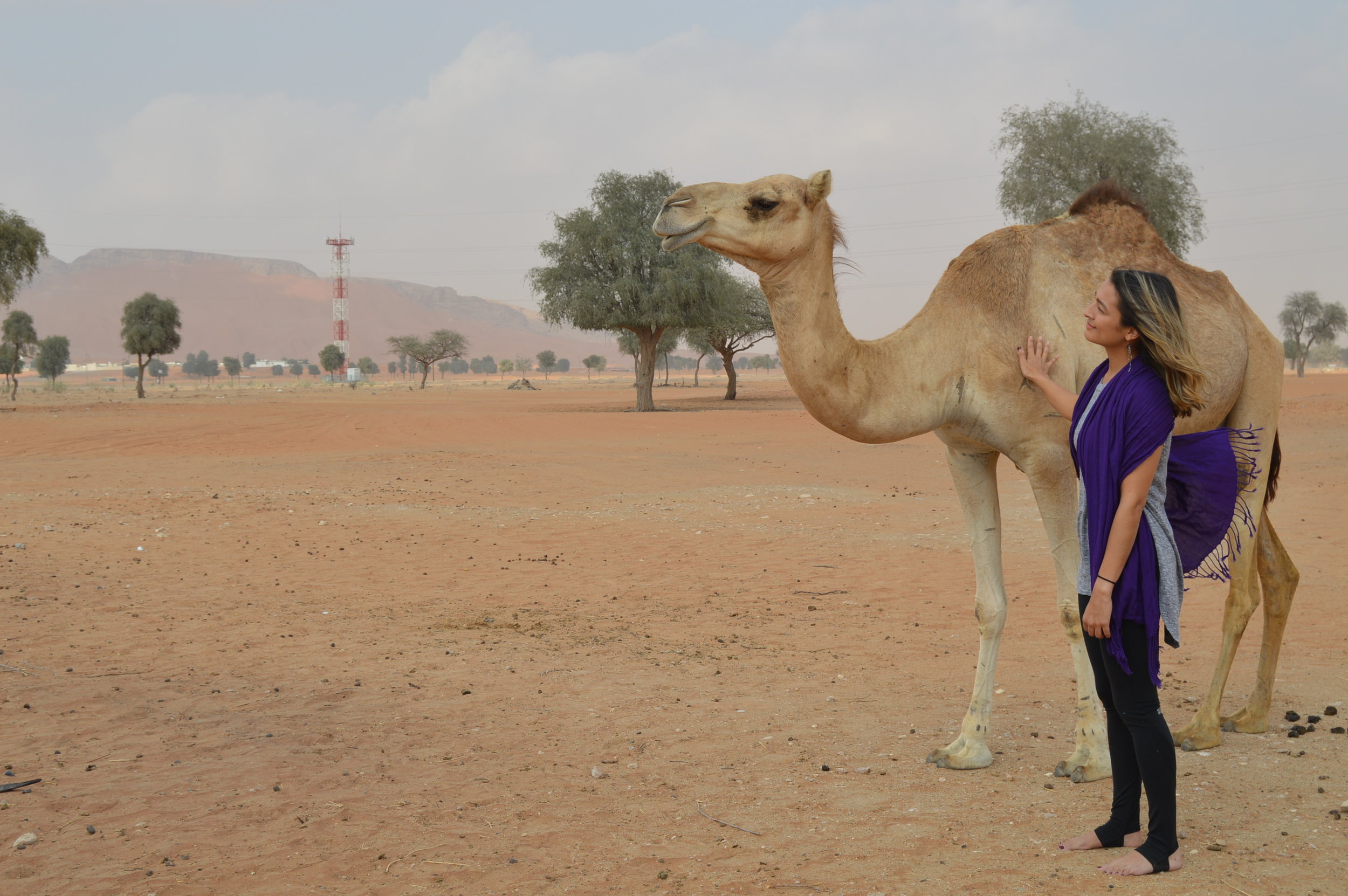 It was the kind of connection
that only happens with a lack of verbal communication
Simply being in the presence of these desert beings created a calm, content, and serene energy, and there was incredible beauty in the effortless act of existing in that moment together.
Although it was a camel farm, owned by a farmer, the animals were freely roaming in and out of their home and we spent the next hour or so just marveling in their presence. I could've stayed there all day, but we had decided to have a barbecue on the beach later that evening and wanted to get all of the supplies before it started getting dark.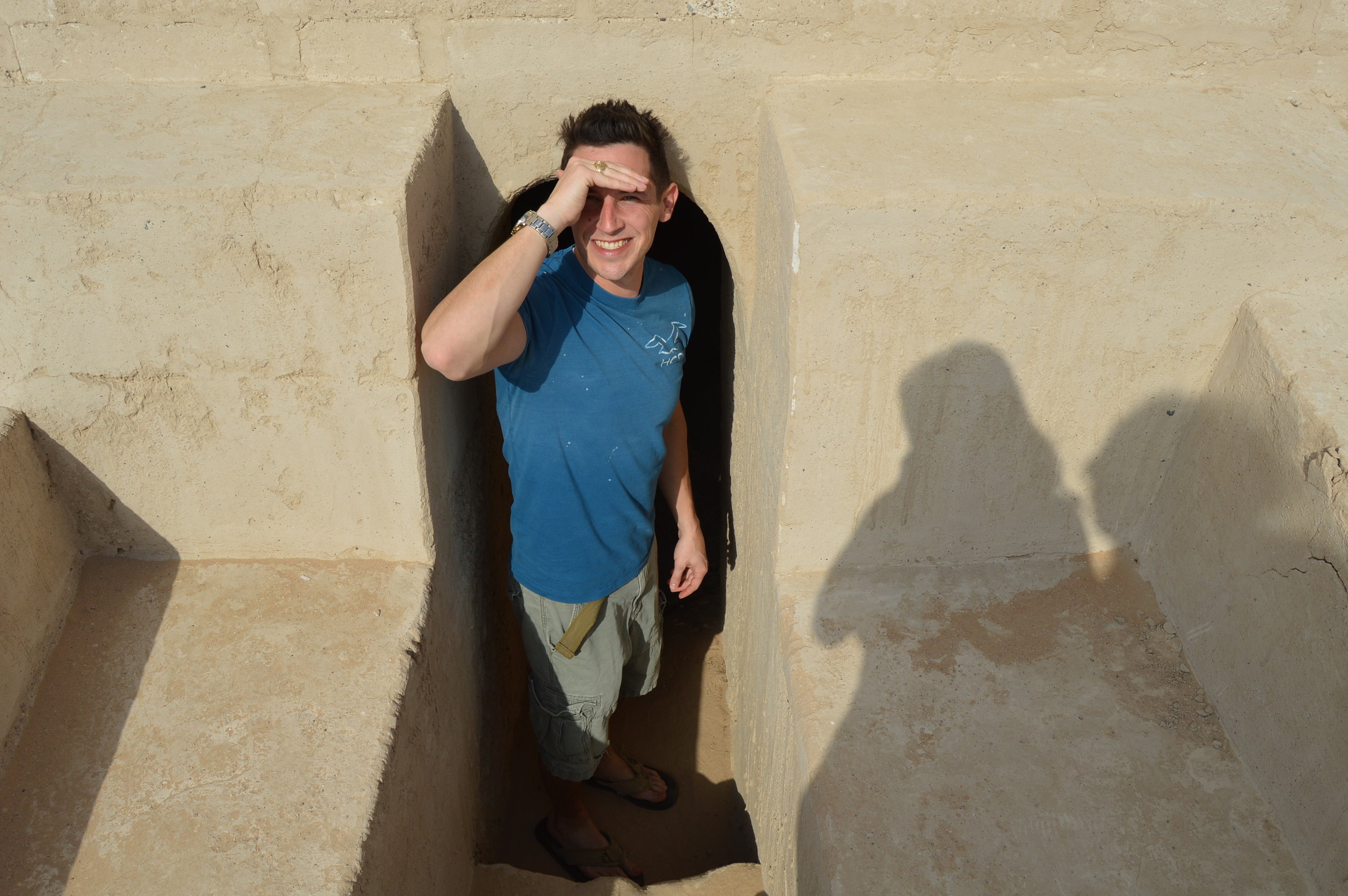 through the tombs at the Archaeological Center, we headed back to Fujairah.
First stop: the slaughter house. I'm only going to touch on this briefly, as it was deeply disturbing for me. The only meat I ever eat is fish, and although I pride myself on trying anything once, I couldn't find anything in me to step foot in the slaughterhouse. The place looked like a petting zoo, and it was really rough having to sit in the car while I knew what was happening inside.
Moving on.
Back in Fujairah, we took a trip to the LuLu mall, which contains a super market, to get all our veggies and spices for our barbecue. It's like any old grocery store in the US, except that you have to pay in Durhams rather than USD (duh). I never quite did get the hang of pulling out what looked like, to me, Monopoly money, and paying efficiently, but together with Peter, my dad, and my brother, we got everything we needed.
with four fires -- all started by Peter, my dad, and Isaiah, while my mom and I hung out on a blanket.
We had one fire for Peter's Texas barbecue, one for my veggies, one for the shrimp, and one for the meats to be cooked by my mom's Pakistani driver, Zaheer, and his friends. We originally thought Zaheer was going to bring two friends. Quickly we learned that he had invited all of his roommates, for a total of 10 Pakistani men who barely spoke any English.
The night started out very separated - my family tending to our cooking, and Zaheer's group crowded around their fire. Slowly, one at a time, they walked over, curious about what we were doing. One would walk by, side eyeing our veggies and meats. Then another would stop by and smile. Then they began to point, and with gestures, tell us how to say certain words in Punjabi (their native language). We would respond by then saying the words in English.
we were mingling around all of the fires, laughing and patting each other on the back.
By the end of the night, we were in a circle dancing and clapping around music being played from someone's phone. (We didn't find out until the next day that we were doing a "wedding dance" for one of the men who is to be married in a month). Food was being shared among groups. Pictures were being taken left and right. One of the men gave Peter, Isaiah, and me, necklaces as gifts. At the very end of the night, we had even taught them how to sing 'Happy Birthday,' and to surprise my mom as she walked up, presenting her with a cake.
made me realize that we are all connected.
We didn't magically learn how to speak each other's languages that night (I did learn how to say 'shukria' thank you). What we did learn was even more magical than words. We learned how to communicate with hand and body gestures, eye contact, sounds, and a smile. We approached each other from a place of love, respect, and openness. Because of this, we were able to authentically connect -- real, raw, truthful connection.
The kind of connection that only that only happens with a lack of verbal communication.
The camels and us. Zaheer, his friends, and my family. Me sharing my experiences in the UAE with my friends here in the United States.
We are all connected.