Whybe a Yogi - My Yoga Journey
One of the biggest questions I get from friends, acquaintances, coworkers, family, and Instagram followers, is "Where do I even begin to start a yoga practice?"
So let me start from the beginning
Growing up, I can vividly remember laying in savasana, eyes wide open, fingers and toes fidgeting, and being so annoyed that my mom found it "fun" to lay quietly with a room full of people doing the same thing. Most importantly, I felt like I had way better things to be doing than "napping while trying to stay awake." I just didn't get it. This attitude around yoga kept me skeptical toward the practice for many years.
Throughout high school and middle school, I participated in various sports – tennis, volleyball, and track, and was an active kid. These hobbies fizzled out when I went to college, and I found myself itching for a new way to stay active that didn't involve playing on a team, or signing up for a club activity. I liked the freedom of yoga classes, and the way yoga helped me to connect with myself. I guess you could say that it was in those yoga classes that I discovered the meaning of the body-mind connection.
Articulating thoughts and feelings with words has always been difficult for me, but the impact of my first hot power yoga class gave me a sensation so powerful that I finally began to understand the concept of listening to my body and the importance of sharing these discoveries of the body-mind connection. Lying there in savasana in a pool of my own sweat, I felt thoroughly exhausted, and yet, I felt strong. It was clear to me, no questions or doubts. Based on my form and strength, you could say it didn't go very well - I didn't know the name of most poses, and those I did know, I couldn't hold for very long. I spent most of class panting because I couldn't catch my breath, and I could barely see because sweat had dripped into my eyes so many times. Despite all of this, my body was rejoicing, buzzing, and full of energy. I had gotten to the end of class, and I smiled to myself because I had gotten there all by myself. This feeling of accomplishment wasn't something I had ever experienced playing a team sport, or performing an instrument on stage. It was a new sense of self-awareness, and for the first time I found myself saying "good job," rather than "you should've done better." I was hooked.
After college, I moved to Houston, Texas. Because I didn't know the layout of the city very well, I found myself in all corners of Houston trying out new yoga studios. Some had carpet. Others had concrete floors. Some were in a room heated above 105 degrees. Others weren't warm enough and we barely moved. All were okay, but I knew my practice was missing something.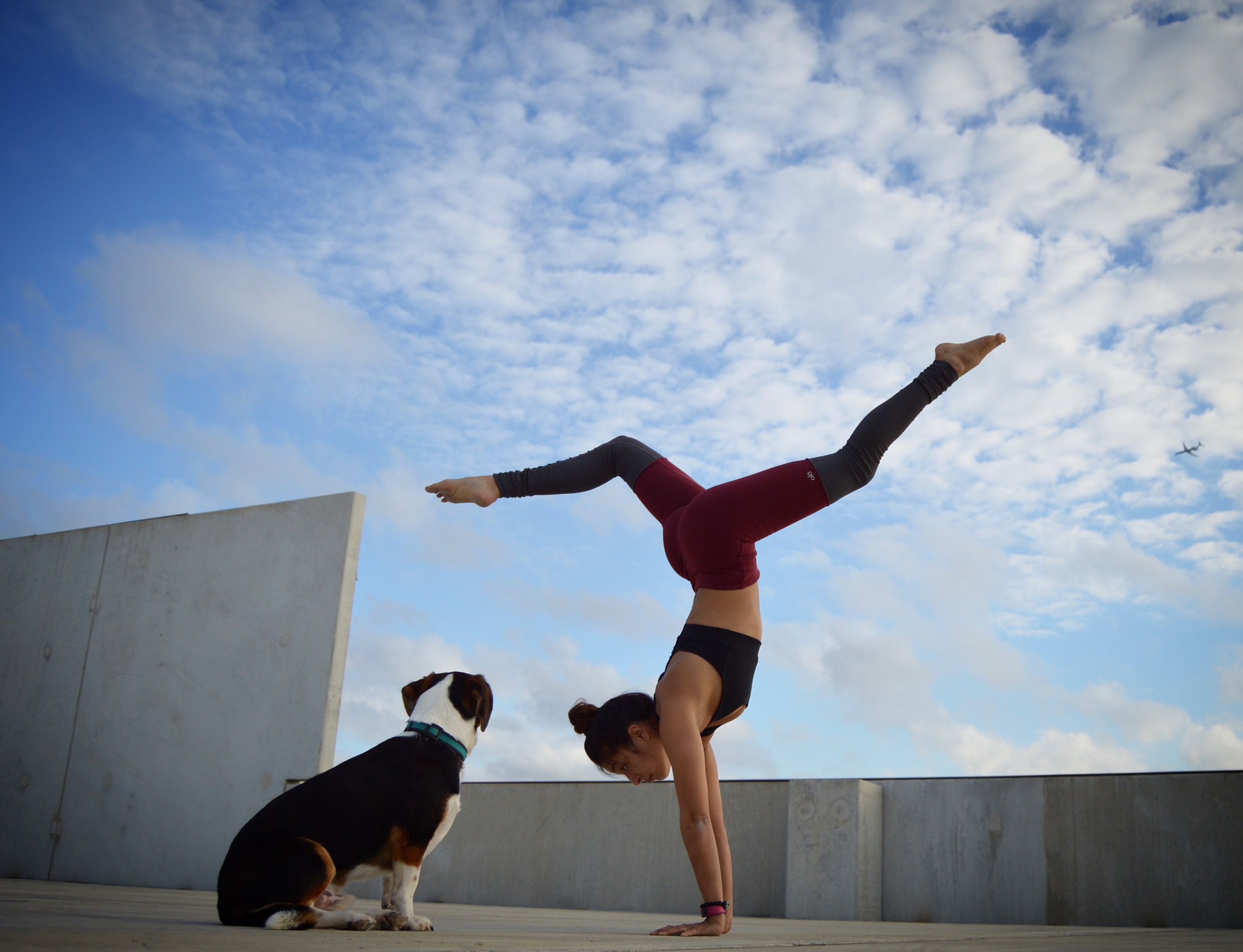 BIG Power Yoga.
Bodies know things instinctively, even before the mind registers it. We've all experienced it, like when you swerve out of the way of an oncoming car before you fully register the problem and process a solution, or walking into a new home, knowing it was waiting for you to move in. THAT happened the first day I stepped into BIG. My body just knew it belonged there. It was unlike any other studio in the fact that there seemed to be no hard "rules" for the time in the studio before class started. People were talking, hugging, practicing handstands, laying down, laughing, you name it. My mind was telling me I was weird and awkward. My body was telling me to be excited. I chose to listen to my body, and began to feed off the energy of the room. That first class at BIG was one of the most amazing practices of my life. My experience in savasana during that first BIG class, was like that first time in Indiana, but ten times more explosive. Not only did I want to keep coming back every day and having more of these transformation practices, I wanted to be a part of this community.
After my first 30-day trial, I signed up to become a member at BIG. I soon learned that BIG was so much more than just a building that offered phenomenal yoga classes. BIG is a community that offers diverse ways to explore and discover your own yoga journey, on your own time, however that may look. I first participated in my first 40 days to Personal Revolution in January of 2015, and was captured by the way the program opened my heart and mind to self-inquiry without judgment. The, through the Lightyear Leadership program, I experienced an inner power of choice I didn't know existed before. In December 2015, I was encouraged by a teacher to consider BIG's 200 hour yoga teacher training. I didn't have any astounding reason except that my body was telling me it was time. I tear up even thinking about my decision to sign up for BIG's teacher empowerment program because it was one of the best decisions I could have made for my life.
The trainings and programs at BIG were the first time I started taking full responsibility for my own actions. Most of my life, I had played the victim to my "problems," and hadn't sought help because I felt they were hopeless and impossible to fix. BIG empowered me to make choices in my life that lead me to living a happier life. And isn't that what we're all really seeking?
Most importantly, I have learned that we all have baggage. It is my duty (and yours!) to pick up that baggage, acknowledge it, and move on with your life. Just because you HAVE baggage, doesn't mean you ARE baggage. That distinction has been key to my personal growth.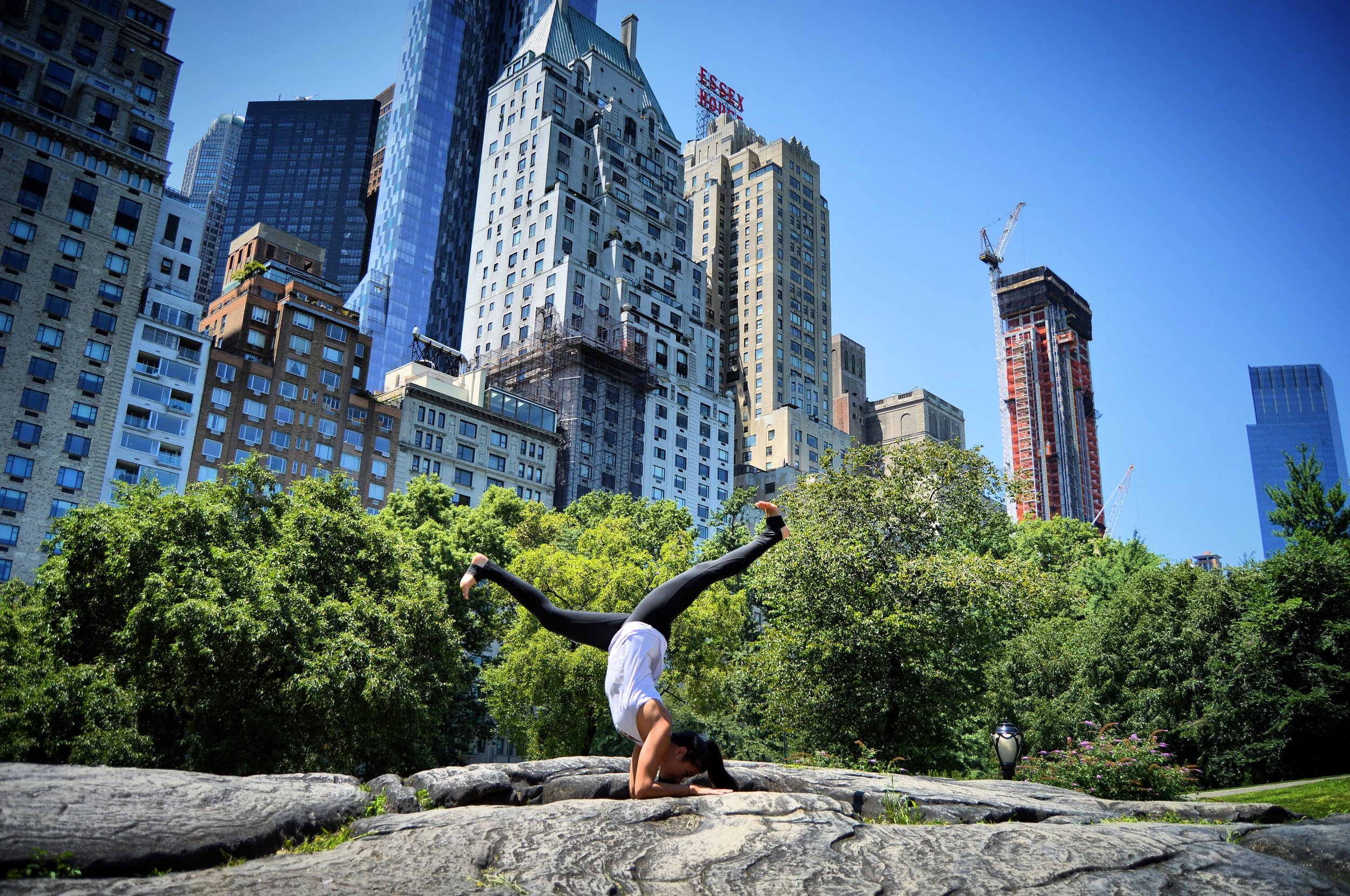 SO: Where do you even begin to start a yoga practice?
Get curious about what your body is trying to tell you.
Try everything.
Let your ego go – so what if you can't nail that yoga pose? It's so much more than the yoga poses.
It's about personal freedom of choice, discovery, and learning to love yourself a little bit at a time.